Skip to Content
5 Cool Things You Can Still Do Outside in San Diego Downtown Right Now
Normally, we'd remind you about San Diego's practically perfect weather, the miles and miles of spectacular shoreline and world-class beaches, the best breweries, the best tacos, the fact that it's just an hour's drive (and a passport) away from a friendly neighboring country with its own amazing places to visit.
But these are different times. The COVID-19 pandemic has temporarily shut down a ton of small businesses and put a lot of our favorite activities on pause. However, nearly all beaches are back open for certain activities, with more parks and trails getting greenlit everyday and restaurants have quickly pivoted to patio dining and takeout. Of course, be safe, wear a mask, and maintain social distance while you enjoy both virtual and in-person activities in America's Finest City. Here's our guide to 5 coolest things to still see and do in San Diego Downtown.
SAN DIEGO'S EMBARCADERO MARINA
A great place to spend the day exploring outside.
Located adjacent to Downtown San Diego along the Big Bay, San Diego's Embarcadero is a testament to the region's colorful maritime history complete with historic ships, museums and harbor tours, as well as a working fishing harbor, cruise ship terminal and plenty of restaurants and shops. Surrounded by the bay on three sides, the Embarcadero Marina provides an authentic San Diego experience complete with scenic views and fresh sea air. Visitors also get a chance to discover the loyalty and courage of many of our Naval Military personnel through various memorials and statues including the Aircraft Carrier Memorial, The Homecoming Statue, and the USS San Diego Memorial.
USS MIDWAY IS NOW OPEN
USS Midway, America's Living Symbol of Freedom, has reopened keeping the safety and well-being of their guests, staff, and volunteers their top priority. The USS Midway Museum introduced new measures designed to ensure a safe and healthy guest experience. The tickets are available for purchase online only, all guests and Midway Crew are required to wear a face covering while on board, high-touch surfaces are frequently disinfected and hand sanitizer and wipe stations are readily available throughout the ship.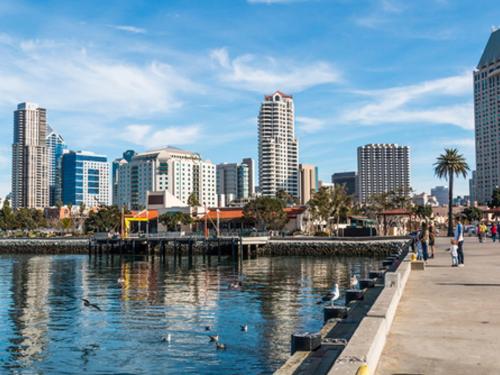 SEAPORT VILLAGE IS OPEN FOR BUSINESS!
A 14-acre waterfront shopping, dining and entertainment complex invites you to enjoy a harbor side setting of a century ago. On your next trip to San Diego you can be assured of two things: the weather will be amazing and you'll discover lots to do at Seaport Village. Come explore 50-plus diverse shops, 17 unique eateries and outdoor entertainment.
EMBARCADERO PARK
Looking for a quick workout, views of a beach side Coronado Island location or a fabulous place to fly a kite – you've found it. The green lawns of Embarcadero Park are often littered with visitors getting in their exercise, setting up shop for a picnic-filled afternoon or looking for a good spot to watch the sunset. In the summertime, you'll find an outdoor stage and seating area on the waterfront housing an evening favorite, the San Diego Symphony Orchestra's Pops Concerts. Events from car shows to food festivals constantly take place on the green lawns adjacent to the Bay. Bring your picnic blanket or put on your running shoes to spend the day amidst friendly faces in a natural environment.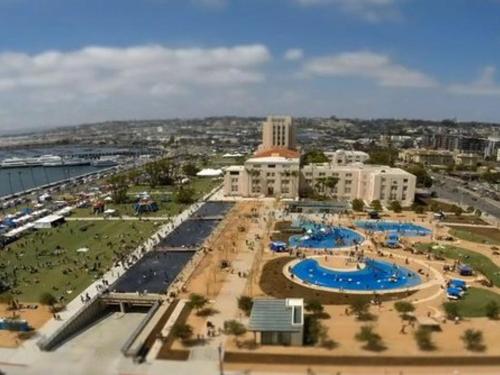 WATERFRONT PARK
Parks and preserves remain open in San Diego, though some on-site amenities have been closed for your protection.
Visit the outdoor Waterfront Park that surrounds the existing historic landscape and landmark County building. It features an interactive splash fountain that extends from the building and into the park defining a large civic green. Kids enjoy having a splash, while cooling off on warm days. The park also features intimate garden rooms with distinct themes, a vibrant children's play zone, and several picnic areas. Please check the San Diego Parks and Recreation website for the current information on Covid-19 related closures and re-opening information.